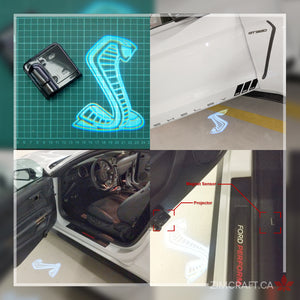 Do you have a 2015-2017 GT350?
Wish you had the snake projector door lights?

Well, we have a solution. A simple battery powered LED projector that attaches to your door. Switches on/off when door is open/closed.



INSTALL INSTRUCTIONS:

Find where you want to attach the projector on the inside of the door. Adjust height such that when door is closed, there is enough room for the projector sensor to pass over the magnet that will sit at the door sill area.


Softly attach the projector to door and magnet to sill area using provided double-sided tape. Do not press tape firmly yet, as you may have to adjust position. (See picture for an idea where to install)




Test to see if it operates correctly by opening/closing door softly.


If it does not operate correctly, adjust position of projector such that, when door is closed the magnet is just sitting under the sensor area of the projector.


If it operates correctly. Both projector and magnet can be pressed firmly into place for proper adhesion.


*Comes with 3 AAA batteries installed.