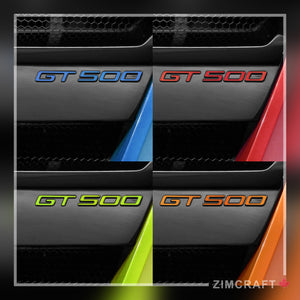 Make the text on your GT500  front bumper stand out
Available in many colors*
Install Difficulty 3/10
Please contact us for custom colors & textures
Installation requires special care and attention
Free shipping in Canada & US

Price shown in Canadian Dollars



*Colors are not exact match to paint.
*Colors are glossy unless stated otherwise.
*Special Colors & Textures cost extra.


IF VINYL DOES NOT PEEL:
Use a plastic card to squeege over vinyl to make it stick to the clear transfer tape
INSTALL INSTRUCTIONS: 
Clean application surface, preferably with alcohol based cleaner.
Peel decal using the clear tape layer
Align decal using the clear tape, once in place press decal into the grooves making sure it has adhered to the surface.
Slowly peel away the clear tape (If decal picks up, press on decal until it sticks to the surface)